Practising Implant Dentistry and Self Directed Learning
İmplantolojide Bilgi Yönetimi: Kliniğimizin Karanlık Yüzü
Medyadan gereksiz ve yanlış bilgiler servis edilmektedir; bu da hastalarımızın kafasının karışmasına neden olmaktadır. Dişhekimliği eğitimi ezbere dayalı bir çizgidedir ve kliniklerimizde tek başımıza kaldığımızda bize yol göstermesi için kanıta dayalı dişhekimliği bilgilerini kullanmak durumundayız. Ancak bu bilgilerin sonuçlarını değerlendirirken çok dikkatli olmalıyız. Endüstrinin veriler üzerindeki baskısı, araştırmalarda farklı örneklemlerin aynı torbada değerlendirilmesi ile sonuçların karmaşıklaşması ve net olmaması, deneyimli uygulayıcıların elde ettikleri sonuçları kliniklerimizde birebir elde edemeyebileceğimiz gerçeği, bilimsel veritabanında çok çelişkili sonuçların elde edilmiş olması ile net bir sonuç elde edilememesi, ülkemizde yabancı dil bilmeyen meslektaşların sayıca çok olması ve bilimsel verilerin çoğuna erişimin ücretli olması gibi sorunlarımız bulunmaktadır. Sunuda 'flepli ve flepsiz cerrahinin hangisini tercih edelim?', 'implant cerrahisinde antibiyotik kullanımının faydası var mı?', 'dişi çekince soket koruma mı yapalım, hemen mi yerleştirelim yoksa hiçbir şey yapmadan bekleyelim ve iyileştikten sonra mı yerleştirelim?' gibi sorulara bilimsel veritabanının verdiği yanıtlar sorgulanmaktadır. Özet olarak, dişhekimliği pratiğinde ihtiyaç duyulan ve net cevabı bilinmeyen önemli konulara bilimsel veritabanının verdiği yanıt açıklanmaktadır.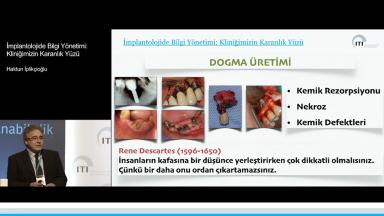 Bu konferansın dinlenmesiyle, dişhekimleri aşağıda belirtilen ana başlıklarda bilgi sahibi olurlar:
Bilimel verilerin değerlendirilmesindeki önemli hususlar
Dişhekimliği pratiğinde ihtiyaç duyduğumuz ucu açık soruların bilimsel veri tabanındaki yanıtları
Dişhekimliğii eğitiminin mevcut yetersizliklerinin eleştirisi
Duration

30 minutes

Source

ITI Congress Turkey & Azerbaijan 2016

CPD/CME

0.5 hours

Purchase price

15 Academy Coins
Share this page
Download the QR code with a link to this page and use it in your presentations or share it on social media.
Download QR code