Clinical Case Report
Replacement of Two Central Incisors and One Lateral Incisor with a Fixed Dental Prosthesis on Two Bone-Level Implants
A 38-year-old woman presented with an esthetically unacceptable fixed partial denture replacing teeth 11, 21, 22. She had lost these teeth due to trauma when she was a child. The patient was not in pain but very concerned based on her previous experience that dental treatments had never satisfied her esthetic expectations. She was in good general health and reported no regular medications. No periodontal disease was noted despite the fact that the buccal flange of the prosthesis impeded cleaning of the tooth abutments. The patient did not smoke and complied with home maintenance requirements, as evidenced by her good oral hygiene status.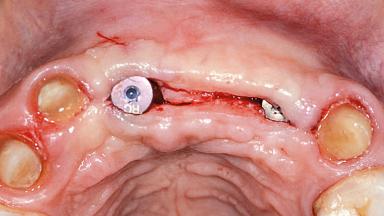 Surgical SAC classification

Complex

Prosthodontic SAC classification

Advanced
Source

Treatment Guide 6

Purchase price

10 Academy Coins

CPD/CME

0.15 hours
Share this page
Download the QR code with a link to this page and use it in your presentations or share it on social media.
Download QR code