Clinical Case Report
Replacement of an Upper Right Lateral Incisor with a Narrow Neck Implant, Restored with a Ceramo-Metal Crown, Cemented
A healthy 32-year-old female patient presented at the clinic for recementation of a resin-retained fixed partial denture (RRFPD) and for a consultation on treatment options to replace the congenitally missing tooth 12. She desired a more esthetic and functional treatment option than her current one. A detailed examination of the teeth and periodontium adjacent to the edentulous space was performed to assess the esthetic risk for implant therapy. The intraoral exam revealed a pre-existing metal-reinforced RRFPD replacing tooth 12. Discoloration of teeth 13 and 11 due to the large metal retainers on the prosthesis was evident.The patient reported several occasions on which the prosthesis had debonded and had to be reinserted. It had become a nuisance for her,and she wanted a more permanent solution. Upon comparison of the adjacent lateral incisors, the mesiodistal width of 12 was slightly smaller and 22 was slightly undercontoured in its incisal embrasure.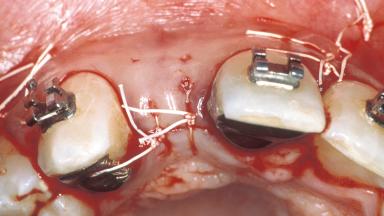 Surgical SAC classification

Advanced

Prosthodontic SAC classification

Advanced
Source

Treatment Guide 1

Purchase price

10 Academy Coins

CPD/CME

0.15 hours
Share this page
Download the QR code with a link to this page and use it in your presentations or share it on social media.
Download QR code