Clinical Case Report
Replacement of an Upper Right Central Incisor with a Regular Neck Implant, Restored with (1) an All-Ceramic Crown, Transocclusally Screw-Retained, and (2) an Auro-Galvano Crown, Cemented, Seated on CAD/CAM Custom Mesostructures (ZrO2 and Titanium)
In February 2005, a 25-year-old female patient, a nonsmoker, was referred to our clinic due to tooth 11 presenting a chronic fistula following unsuccessful root-canal treatment and several attempts at endodontic surgery. The dental history revealed that more than ten years earlier, teeth 11 and 21 had been traumatized during a sports accident. Consequently, 11 had lost its vitality, and there were two moderate fractures of the mesioincisal borders of the two central incisors that had been restored with direct composite restorations. At the time of examination, the composite restorations showed signs of wear, some discoloration, and marginal infiltration. The patient also complained about a moderate discoloration of the clinical crown of the non-vital tooth 11. The patient was in good general health, and her medical history revealed no significant findings.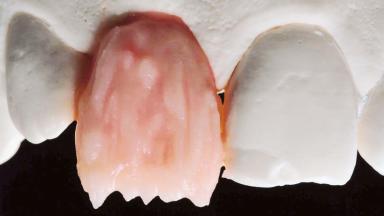 Surgical SAC classification

Advanced

Prosthodontic SAC classification

Advanced
Source

Treatment Guide 1

Purchase price

10 Academy Coins

CPD/CME

0.15 hours
Share this page
Download the QR code with a link to this page and use it in your presentations or share it on social media.
Download QR code