Clinical Case Report
Replacement of a Compromised Upper Right Central Incisor: Hard- and Soft-tissue Augmentation, Late Placement of an RC Bone Level Implant
A 36-year-old male patient with a compromised maxillary central incisor was referred by his general dentist for consultation. The patient's chief complaints were the gradual debonding of a temporary crown on the right central incisor and unsatisfactory esthetics due to an increasing diastema between the right central and lateral incisors. The patient reported a traumatic event some years previously, when a crown had been placed after root-canal treatment. The referring dentist wanted to provide a new crown restoration, but was concerned about the condition of the residual root. Anamnesis was negative for any other dental or periodontal pathology in the remaining dentition. The patient reported taking no medications: He was a smoker (10 to 15 cigs/day) and had realistic esthetic expectations.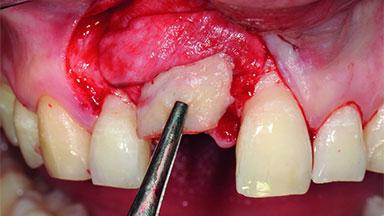 Surgical SAC classification

Complex

Prosthodontic SAC classification

Advanced
Source

Treatment Guide 10

Purchase price

10 Academy Coins

CPD/CME

0.15 hours
Share this page
Download the QR code with a link to this page and use it in your presentations or share it on social media.
Download QR code