Clinical Case Report
Removal of a Malpositioned Implant and Direct New Implant Placement with Simultaneous Contour Augmentation using GBR
A 35-year old female patient was referred to the Department of Oral Surgery and Stomatology at the University of Bern, Switzerland, for examination of an implant site that had exhibited clinical signs of slightly delayed wound healing. In addition, the referring clinician found no evidence for a facial bone wall when she raised a flap to gain access to the implant for abutment connection. Four months earlier, she had inserted a bone-level implant in a single-tooth gap, where the lateral incisor had been extracted due to a chronic periapical lesion on the mesial aspect of the root. Implant placement was combined with simultaneous bone augmentation using deproteinized bovine bone mineral (DBBM, Bio-Oss®; Geistlich, Wolhusen, Switzerland) and a collagen membrane (Bio- Gide®; Geistlich), followed by primary wound closure. The patient also provided the postsurgical radiograph that displayed the implant with a 3.5-mm healing cap.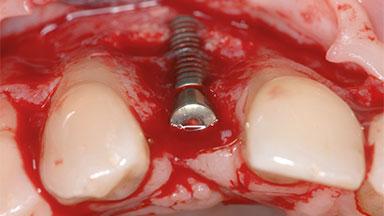 Surgical SAC classification

Advanced

Prosthodontic SAC classification

Advanced
Source

Treatment Guide 8

Purchase price

10 Academy Coins

CPD/CME

0.25 hours
Share this page
Download the QR code with a link to this page and use it in your presentations or share it on social media.
Download QR code