Clinical Case Report
Prosthetic Management of a Soft Tissue Defect Utilizing Pink Porcelain
The patient presented with root fracture of the right central incisor with associated distal bone loss. After sectioning and extraction of the fractured root the distal papilla was lost, creating an esthetic compromise. This case demonstrates an option for treating this esthetic compromise. Early (Type 2) implant placement was performed at 7 weeks with simultaneous horizontal and vertical augmentation using Bio-Oss and Bio-Gide (Geistlich). After 3 months a connective tissue graft was performed at the time of implant exposure. Despite these surgical procedures, the papilla could not be recovered. As a result, a prosthetic solution was necessary.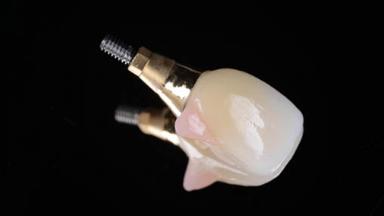 Surgical SAC classification

Advanced

Prosthodontic SAC classification

Advanced
Source

User case

Purchase price

10 Academy Coins

CPD/CME

0.25 hours
Share this page
Download the QR code with a link to this page and use it in your presentations or share it on social media.
Download QR code