Clinical Case Report
Peri-implantitis Resulting in Bisphosphonate-related Osteonecrosis of the Jaw
A 82-year-old female patient was referred to the Department of Oral Surgery and Stomatology at the University of Bern, Switzerland, for further diagnosis and treatment of growing discomfort in the right mandible (implant 45) and left maxilla (implant 23). The patient had had implants of various types inserted in the mandible and maxilla over the course of the previous three decades (in the 1980s and 1990s). The patient had received removable partial dentures on implants in the maxilla and on natural teeth in the mandible. The implants in the posterior right mandible had been restored with two splinted single crowns. The lower partial denture was not well tolerated by the patient and therefore had not been worn for over ten years. After insertion of the implants, there had been no complications for many years, but implants 45 and 46 as well as 23 had begun to exhibit signs of peri-implantitis with limited bone loss several years previously. The infection had been treated by the private practitioner, and bone loss around the three implants had not progressed until about half a year previously.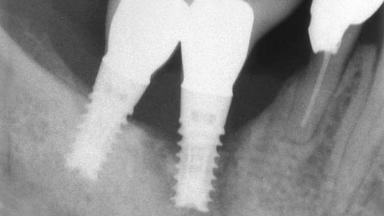 Surgical SAC classification

Straightforward

Prosthodontic SAC classification

Straightforward
Source

Treatment Guide 8

Purchase price

10 Academy Coins

CPD/CME

0.15 hours
Share this page
Download the QR code with a link to this page and use it in your presentations or share it on social media.
Download QR code