Clinical Case Report
Improving an Existing Implant-supported Denture in an Alzheimer Patient with Bipolar Affective Disorder with Moderate Depression and Dementia
An 83-year-old man presented together with his caregiver at the dental department of the Medical University of Innsbruck, Austria with complaints of swelling in the right maxillary canine area and loss of retention of his 5-years-old mandibular denture. The patient had a significant medical history (20 years) of bipolar affective disorder with moderate depression (F 31.3) and dementia in Alzheimer's disease (F 00.2). The patient had been in ambulant psychiatric therapy for his depressive illness for the past 20 years. He lived alone and had no children; his sister assisted with daily living. She reported that the patient exhibited compulsive hoarding behavior. In the previous two months, she had noted increasing disorientation and vertigo in the patient. She therefore accompanied him for a medical consultation at the Department of Psychiatry and Psychotherapy of the Medical University of Innsbruck. He was released home after a 6-week inpatient stay.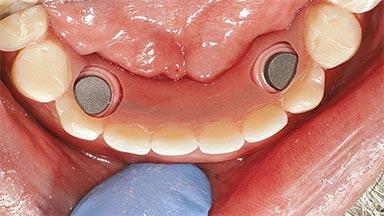 Surgical SAC classification

Straightforward

Prosthodontic SAC classification

Advanced
Source

Treatment Guide 9

Purchase price

10 Academy Coins

CPD/CME

0.15 hours
Share this page
Download the QR code with a link to this page and use it in your presentations or share it on social media.
Download QR code