Clinical Case Report
Immediate Placement of an Implant in a Maxillary Right Central Incisor Site
A 30-year-old female patient was referred to the office for the treatment of tooth 11. Her chief concern at the initial visit was to inquire, "Why is my tooth pink?" Upon clinical examination, it was determined that tooth 11 had a previous history of trauma and that the clinical crown had become noticeably pink in color as a result of internal resorption. This diagnosis was confirmed radiographically, indicating a large radiolucency involving the central and distal portions of the clinical crown. It was determined that restoration of this tooth was not possible, and that extraction was indicated. The presence of a mid-line diastema, which the patient wanted to reproduce, directed the treatment plan for tooth replacement utilizing a dental implant.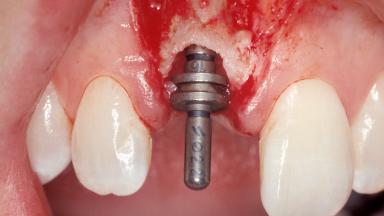 Surgical SAC classification

Complex

Prosthodontic SAC classification

Advanced
Source

Treatment Guide 3

Purchase price

10 Academy Coins

CPD/CME

0.25 hours
Share this page
Download the QR code with a link to this page and use it in your presentations or share it on social media.
Download QR code