Clinical Case Report
Immediate Flapless Placement of an Implant in a Maxillary Left Central Incisor Site
A 29-year-old female patient presented for treatment to replace the upper left central incisor tooth with an implant- supported restoration. The tooth had been intermittently symptomatic for the previous 12 months. The tooth had originally suffered trauma about 15 years previously. Several endodontic treatments had been performed, including an apicectomy procedure to retain the tooth. The patient was healthy and a non-smoker. She had reasonable expectations in regard to esthetic outcomes and the risk of marginal tissue recession following treatment. At medium smile, the gingival margins of the upper teeth were visible, with a display of 3 to 4 mm of the gingival margins. Gingival recession of tooth 21 and a discrepancy in the gingival levels between teeth 11 and 21 was observable during normal speech and smile.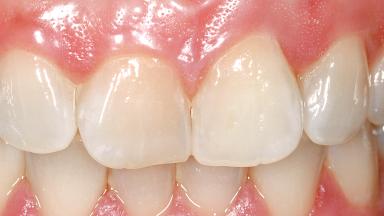 Surgical SAC classification

Complex

Prosthodontic SAC classification

Straightforward
Source

Treatment Guide 3

Purchase price

10 Academy Coins

CPD/CME

0.25 hours
Share this page
Download the QR code with a link to this page and use it in your presentations or share it on social media.
Download QR code