Clinical Case Report
Excess Cement Resulting in Peri-implant Infection Presenting as a Draining Sinus Tract
Biological complications caused by undetected cement residue have been receiving much attention. Excess cement might be responsible not only for rapidly developing of peri-implantitis, but also for delayed or chronic manifestations of the disease many years after cementation (Wilson 2009; Linkevicius and coworkers 2013). Invitro and clinical studies have shown that it is very difficult or even impossible to completely clean up excess cement at subgingival margins, so popular in cemented restorations (Agar and coworkers 1997; Linkevicius and coworkers 2011, 2012). Possible outcomes of biological complications due to excess cement range from temporary inflammation of the peri-implant soft tissues without any serious esthetic and functional consequences all the way to implant loss. This report describes a case of peri-implantitis caused by residual cement; as well as the management and quite unusual resolution of the complication. The patient presented in 2009 with a draining sinus tract, tenderness on chewing, and tissue contact above the implant-supported restoration. The implant had been restored approximately three years before.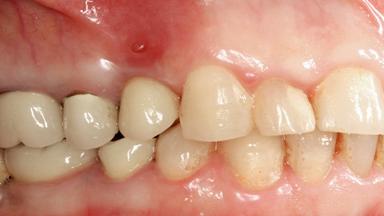 Surgical SAC classification

Straightforward

Prosthodontic SAC classification

Straightforward
Source

Treatment Guide 8

Purchase price

10 Academy Coins

CPD/CME

0.15 hours
Share this page
Download the QR code with a link to this page and use it in your presentations or share it on social media.
Download QR code