Surgical Planning and Procedures
Split-Crest: Alternativa Previsível Para Regeneração Óssea Horizontal
Nesta aula são apresentados os tipos de reabsorção dos rebordos edêntulous e alternativas cirúrgicas conhecidas aplicadas para sua resolução. Atualmente, há inúmeras técnicas encontradas na literatura com boa aplicabilidade clínica para reconstrução do tecido ósseo perdido. A técnica Split Crest é destacada como uma alternativa viável, bem documentada e com aplicação clínica simples, e de fácil execução pelo cirurgião-dentista. Além disso, destacam-se as indicações e os princípios para uso da técnica, e o passo a passo da mesma para que o sucesso clínico seja alcançado.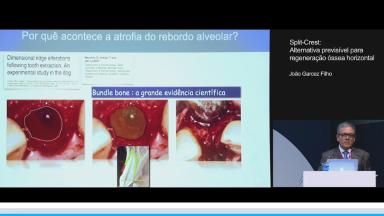 Ao final desta aula você deve ser capaz de…
identificar os tipos de rebordos edêntulos
descrever as técnicas cirúrgicas utilizadas para correção dos rebordos edêntulos
discutir a técnica Split Crest como uma alternativa para a regeneração óssea horizontal
Duration

61 minutes

Source

ITI Scientific Session Brazil 2016

CPD/CME

1 hours

Purchase price

30 Academy Coins
Share this page
Download the QR code with a link to this page and use it in your presentations or share it on social media.
Download QR code