Surgical Planning and Procedures
Preservação do Rebordo - Como e Quando
O objetivo da aula é saber como e quando preservar o processo alveolar que contenha volume suficiente para procedimentos reabilitadores. Baseado em trabalhos de pesquisa padronizados, dicas científicas e um ótimo recurso visual, preservar o processo alveolar se torna uma ótima solução. Com técnicas de exodontia minimamente invasivas e menos traumáticas; a exodontia dentária passa a ser um passo fundamental no processo de preservação alveolar. Atenção é dada a ação de biomateriais não reabsorvíveis, colocados no sítio de extração impedindo a ação osteoclástica. A aula demonstra além da técnica de exodontia, enxertia e seus fundamentos na preservação do processo alveolar, como também comparação entre resultados de enxertia com osso autógeno e com biomateriais não reabsorvíveis.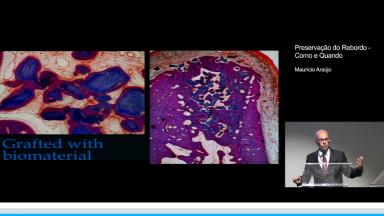 Ao final desta aula de congresso você sera capaz de:
Avaliar a porção do rebordo que precisa ser aumentada ou preservada, reconhecendo a diferença entre preservar e aumentar o processo alveolar mantendo volume suficiente para tratamentos reabilitadores
Entender a relação entre as características anatômicas e alterações do processo alveolar após extração, sob a ação dos osteoclastos e sua importância no processo de remodelação óssea
Relacionar técnicas de preservação alveolar com osso autógeno e biomateriais não reabsorvíveis
Saber que o osso vestibular reabsorve com ou sem a presença de materiais de enxertia
Reconhecer que osso autógeno, como enxertia, não é capaz de prevenir reabsorção e remodelação óssea.
Duration

33 minutes

Source

ITI Congress Brazil 2015

CPD/CME

0.57 hours

Purchase price

17 Academy Coins
Share this page
Download the QR code with a link to this page and use it in your presentations or share it on social media.
Download QR code